Happy holidays from the GIM Institute!
The Global Innovation Management Institute team wishes you happy holidays. Thank you for your partnership and support throughout the year. We are proud of all the achievements in 2019 and looking forward to an ambitious 2020.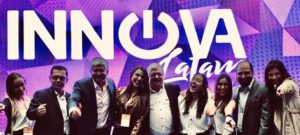 GIM Institute Annual Innovation Summit
Insights from InnovaLatam – the Largest Innovation Summit in LATAM
On November 13-15, one of the most important innovation events in Latin America – INNOVA LATAM was held in the city of Cartagena (Colombia). Nearly 400 participants from over 200 companies attended to learn about innovation, growth and future trends from 24 globally acknowledged keynote speakers. More…
Global Innovation Awards
GIM Institute awarded Innovation Leaders   
for their contribution in the field of Innovation
GIM Institute Global Innovation Awards Ceremony took place on November 15, as part of GIM Institute Innovation Summit – InnovaLatam.
Ronald Jonash, the Chairman of the GIM Institute Board, received GIM Institute Lifetime Achievement Award for making innovation a management discipline across the globe. More…
One of the greatest accomplishments in 2019 – the first set of companies were certified in GIM Institute Level 3. These companies were awarded for driving innovation mastery within their organizations and ecosystems. More…
New partner
Athenaeum Consultants – the GIM Institute partner in Singapore 
GIM Institute signed the partnership agreement with  Athenaeum Consultants (CEO – Simon Siah). The partner will drive GIMI Innovation programs and certification in Singapore. More about GIM Institute partners here.